See our selection of HORSE BITS that have now been added to our Secondhand Tack and Riding Clothing page.
From Fulmer Cheeks, Loose Rings, Pelhams and some rarities, all are now listed and regularly updated on this website. If you can't see what you are looking for, contact us, as we may just have it in our large bank of bits.
New for 2018 from the makers of the enormously popular Ri Dry Hunter Coat, the company has launched their first waterproof breathable riding breeches. Following the many requests for a more tailored option to the Ri Dry over breeches, the new breeches, pictured here, have been cut with 2 zipped front pockets, zipped front fly opening and loops for a belt.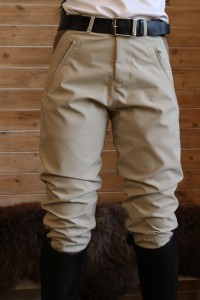 The fabric weight is 205g/m2 100% polyester face. The laminate is a 3-layer breathable Hydrophilic PU membrane that meets the highest class 3 for waterproofness and breathability. All inside seams have been heat sealed with waterproof taping. Fitted with coffee-colour 10 denier nylon knit elasticated bottoms and waist trim, the new breeches are designed to fit easily under riding boots.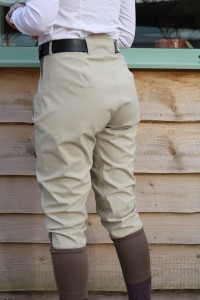 To fit both men and women the waist sizes start at 28″ upto 38″. Beige only/coffee trim. Price £130.
Wet Gun Dog (Mainly for Men!)
Honeycomb Skincare
Wet Gun Dog Aftershave Balm
Honeycomb Skin Care
Calms and moisturises dry or rough skin. Contains honey, beeswax, and apricot oil. Ideal for sensitive skin. Use daily after shaving to maintain good skin condition.
100 ml. £8.90
Wet Gun Dog Body Wash
Helps skin to retain moisture and not leave it feeling dry. Contains honey, extract of wheatgerm and evening primrose.
250 ml. £4.95
Wet Gun Dog Hand Cream
'This is a rich hand cream that contains honey, wheatgerm oil and comfrey oil and has a spicy fragrance. Comfrey is known as the 'knit bone' herb because of its healing properties. It contains the healing agent allantoin which can relieve sores and chaps. Rub well into hands especially into any sore areas.
100 ml. £6.70
Wet Gun Dog Honey Soap Bar
Honey, beeswax and vegetable oil bar that is mild and gentle. Leaves skin feeling silky smooth.
150 gm. £3.50
Visitors to the Farmers Den have had the pleasure of seeing and purchasing the distinctive range of quintessentially English Wildlife and Domestic Animal Paintings by Andrew Partridge.  Animals, Birds and Things are depicted in his Caught in the Headlights range of blank greetings cards that have been a best seller for us for many years.
Now there is a new range of "Over The Hill" greetings cards inspired by the characters taken from the immensely popular Tails & Verse from Over The Hill book. These Exmoor characters have an enduring quality depicted in extraordinary detail by the artist Andrew Partridge. The Cards size is approx. 6″ x 6″ with envelope in film bag. Blank inside for your own message. £2.20 each. There are 15 images available in the card range and 17 that include The Ringer, and The Card School in the print range. The prints are available in A4 for £22 and A3 for £45. For further details contact The Farmers Den.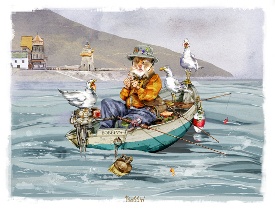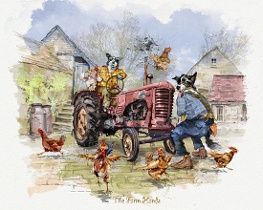 Bobbin'
The Farm Hands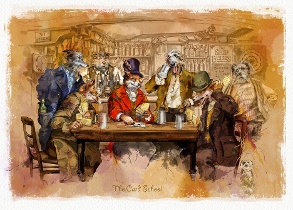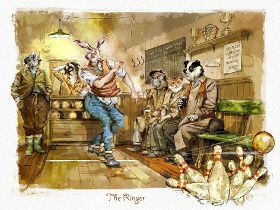 The Card School
The Ringer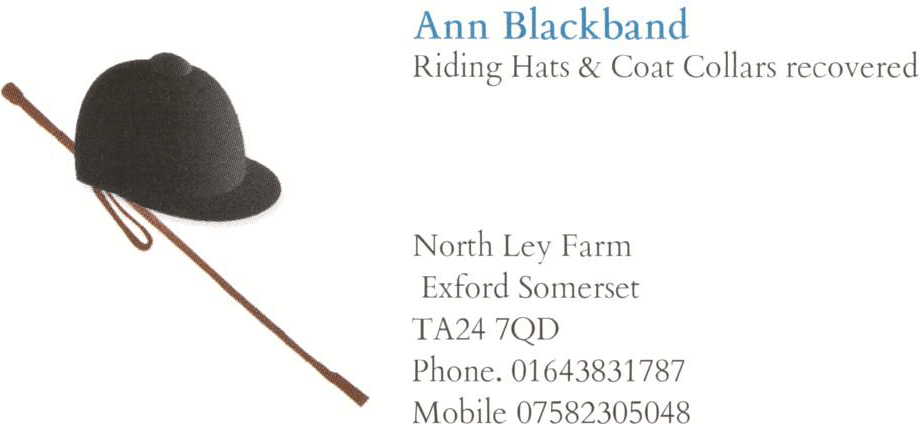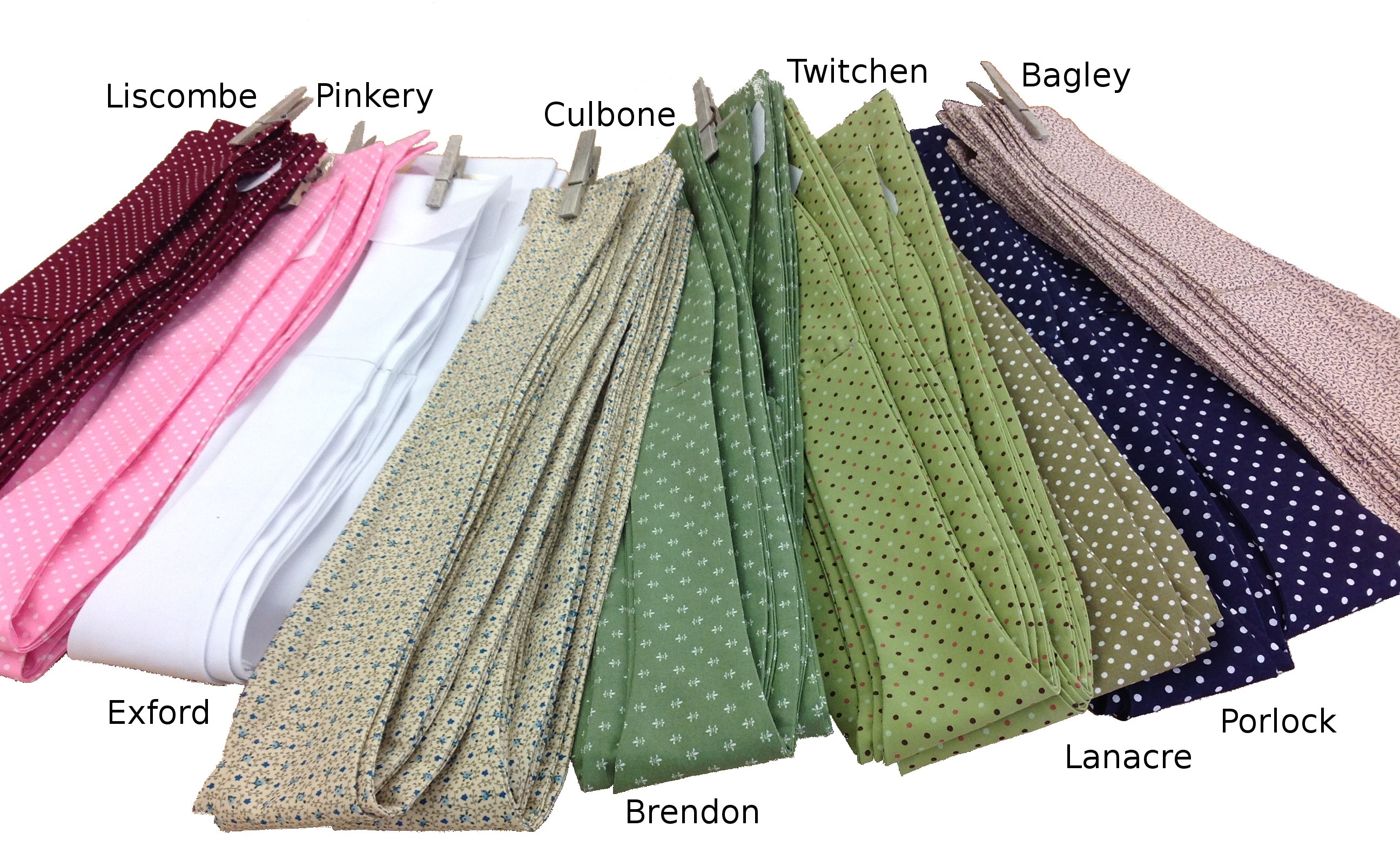 Gary Mills Exmoor Inspired printed stocks are nearly all polyester cotton with an interlining of polyester cotton to give extra body to the finished product. Full how to tie your stock instructions included with each purchase.
Recommended neck sizes – Small – teenager, Medium – women's Large – men's and ladies that like extra to tuck in.
Price £20.50 plus postage or in store. Call 01643 831151 or email carolecwoods@aol.com to order stating Style Name and Size.
Waistcoats
We have received an unusual selection of show-stopper waistcoats suitable for those with a taste for the slightly eccentric or moving in circles where they want to impress.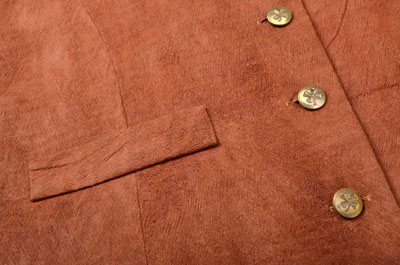 The cloth is made from the bark of the FICUS (or Fig Tree). The outer bark from the tree has been stripped, soaked and beaten out with wooden mallets.
We have three sizes that were produced by a small independent in the U.K. All the fronts are made up in bark cloth with 4 brass buttons and two front faux pocket flaps.
The largest has been made up in a man-size and fits a 48″ chest with both the front and the back made from bark cloth.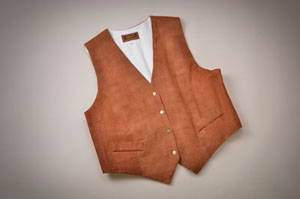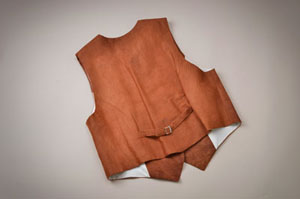 The ladies size will fit a 38″ bust and features an attractive deer motif cream wool/silk back.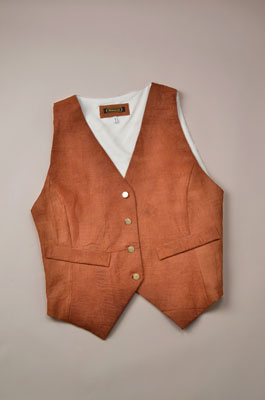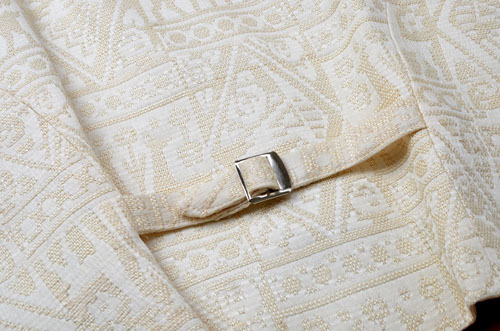 And the third waistcoat in a unisex 40″ chest has a tie-dye cotton/silk back.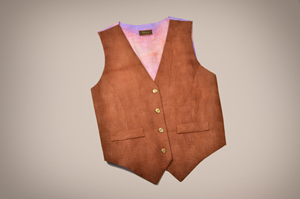 Dry clean only Price £100